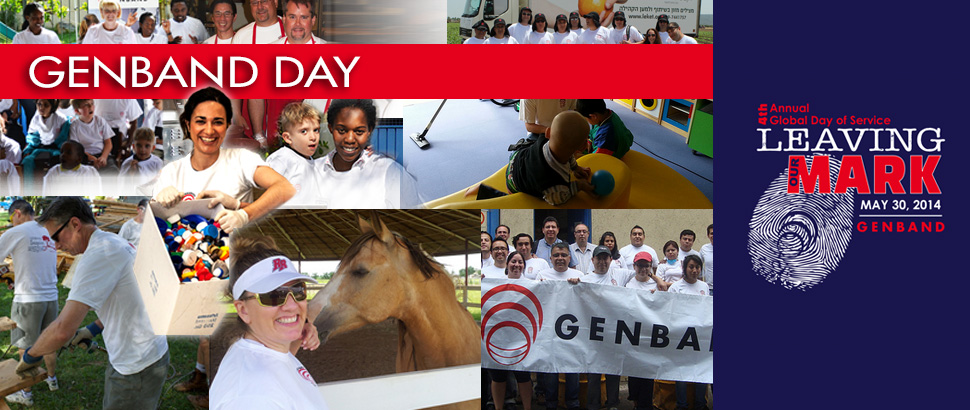 In its continuing commitment to fostering a spirit of year-round volunteerism, GENBAND's 2014 objective is to volunteer more than 10,000 hours during the year.
What is GENBAND Day?
GENBAND Day, which is June 1st of each year, is a Global Day of Service during which GENBAND's global employee base will participate in volunteer activities benefiting non-profit agencies and organizations all around the world. GENBAND team members around the world will be dedicating volunteer hours during our Global Day of Service. Since June 1st 2014 is a Sunday, GENBAND employees will be conducting volunteer activities on May 30th.
How did GENBAND Day come about? 
On June 1, 2010, GENBAND executives made June 1st a global company holiday. GENBAND employees subsequently recommended transforming the holiday into a global day of community service. Because June 1st is on a weekend day this year, GENBAND employees will conduct their volunteer activities on May 30th. Since the inception of its Global Day of Service, GENBAND employees have dedicated more than 25,000 hours to community service. 
What organizations are GENBAND employees assisting?
GENBAND employees around the world assist and serve organizations that range from well-known charities like Habitat for Humanity, Ronald McDonald House, and the Humane Society to local organizations such as the Ottawa Food Bank and Galway Hospice. 
Why did GENBAND employees select these organizations?
At GENBAND we want to foster a year-round spirit of volunteerism, consistently contributing to our local communities. Our employees selected various charities because many of them have been involved with several of these organizations in the past, either as recipients of services or as volunteers. We also looked for charities that were "close to home", so we could give back to the communities that support and sustain us on a daily basis. 
Below is a summary of volunteer activities.
Frisco, Texas
Frisco and Plano-based employees assisted the following organizations in and around the Dallas area Metroplex:
Adopt A Street clean-up
Carter Blood Care (onsite blood drive)
Dallas Zoo
EQUEST Therapeutic Sports Riding clean-up
Frisco Family Services
Genesis Women's Shelter
Habitat for Humanity of McKinney
Kimberlin Academy of Excellence Field Day
Minnie's Food Pantry
Ronald McDonald House
Plano Animal Shelter
Plano Community Garden
Plano Parks & Recreation clean-up – Heritage
Plano Parks & Recreation clean-up – Oak Point
The Plaza Senior Living Center
Billerica, Massachusetts
Billerica employees lended their support to the following organizations:
Habitat for Humanity
Nashua Soup Kitchen and Shelter (New Hampshire)
People Making a Difference Lego Build
The Open Pantry of Greater Lowell
Raleigh, North Carolina
Employees from GENBAND's Raleigh office assisted the following charities:
Chatham County Junior Appalachian Musicians JAM Camp
Food Bank of Central and Eastern North Carolina
Habitat for Humanity of Durham
Habitat for Humanity of Wake County
Hope Reins
Meg Smiles Foundation
North Carolina Museum of Life and Science
Relay for Life
Ronald McDonald House
Special Olympics
Survivor Joe Bracelet Making
Tour de Cure for the American Diabetes Association
United Way – Teaming for Technology
Other US Regional Offices Volunteer Activities
Breeze Park Senior Living Center (St. Charles, Missouri)
Habitat for Humanity of Gaithersburg (Gaithersburg, Maryland)
Habitat for Humanity – Mt. Laurel (Cinnaminson, New Jersey)
Plum Island Beach clean-up (Newburyport, Massachusetts )
Habitat for Humanity – Broward County (Ft. Lauderdale, Florida)
New York Says Thank You Foundation – Hurricane Sandy home restoration (New York City)
Ronald McDonald House of Orlando
United Way (New Jersey)
Various individual volunteer activities were conducted by remote and teleworkers
Ottawa, Toronto and Canadian Regional Office
Employees in Ottawa and other Canadian regional offices engaged services assisting the following:
BIG BIKE (Toronto)
Canada Science and Technology Museum (Ottawa)
Lavigne Court Townhome Community clean-up (Ottawa)
Ottawa Community Housing - Russell Manor Apartment Building clean-up
Ottawa Food Bank
Ottawa Humane Society
Silver Springs Farm (Ottawa)
The Debra Dynes Community House (Ottawa)
The Ottawa Mission
Regional Offices in Europe, Middle East and Africa (EMEA)
Employees in EMEA worked with the following charities:
Beanie and Blanket Drive (South Africa)
Clean-up activities along the banks of the River l'Orne (France)
Galway Hospice (Ireland)
Gukovka Community Children's Playground clean-up (Russia)
Immenstaad Kindergarten clean-up (Germany)
International Kinderhaus (Germany)
Local beach clean-up (Israel)
Moycullen Tidy Towns (Ireland)
National Charity Boys School classroom renovation (Dubai)
The Brothers of Charity Galway (Ireland)
The FitzRoy National Charity Sensory Garden make-overs (United Kingdom)
Asia Pacific Regional Offices
Employees in APAC lended their support to the following organizations:
Andrew Food Bank (Taiwan)
China Social Welfare Home (China)
City People Foundation (Taiwan)
Food Angel (Hong Kong)
Salvation Army (Australia)
Ted Noffs Foundation (Australia)
Tsunami Relief Work (Japan)
Caribbean and Latin America Offices
Employees in CALA volunteered with the following charities:
Associação de Pais e Amigos dos Excepcionais (APAE) (Brazil)
Casa de Apoio às Pessoas com Câncer (Capec) (Brazil)
Casa de la Sal (Mexico)
Fundación Quiéreme y Protegeme (Mexico)
Hit and Run (Baseball game for deaf children) (Spain)
Lar Batista Esperança (Brazil)
Lar Beneficente AMAR (Brazil)